Michael Baugh CDBC CPDT-KSA
This is a success story. It's the happy ending kind of holiday story about well-earned success through smart and dedicated training.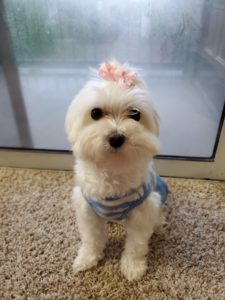 Perla (I have permission to use real names) barked at strangers, primarily strangers she saw on walks. This is a dog behavior problem I know a lot of you can relate to. But there was an added twist. Perla and Jennifer, her human, were flying home for the holidays in just 4 weeks – Perla's first time flying under the seat and her first time meeting a ton of family.
Let's cut to the ending. Perla did fine.
Here's how we pulled it off.
Training is a process. We follow three overarching steps.
Set the dog up to succeed. In Perla's case this meant creating learning experiences in the beginning that were lower-stress so that she could wrack up a bunch of wins, build her confidence, and take on new challenges at her own pace.
Teach functional skills. In order to navigate a flight Perla needed to learn to see people and remain calm, relax in public (on her mat), and successfully ride in a soft-sided carry-on crate.
Teach the learner that she is safe throughout the process. Emotions matter. Perla learned that she was safe performing her simple skills because Jennifer always set her up to succeed. She lowered the intensity of exposure to people when Perla needed it, taking breaks and increasing distance.
I know a lot of you are familiar with these principles, too. It's the science of behavior change in a nutshell.
Jennifer taught Perla:
To look at people calmly without barking. She practiced at home and on a nearby walking path.
To lie on her mat and really relax. She taught this at home as well.
To go in her soft-sided carry-on crate and remain relaxed.  Jennifer carried Perla in the bag and fed treats.
After a couple of weeks of daily work, Jennifer and Perla went to the airport for some real-life practice. Below are some quotes from their training journal.
"I gotta tell you," she wrote. "it went MUCH better than I could've imagined. I have happy tears." Perla grumbled a couple of times from the carrier as they were walking into the airport. Once inside, Jennifer sat down and helped Perla get more comfortable (taking a break and increasing distance from people). "A few people walked past us," Jennifer wrote, "no bark, so I kept the treats coming. Then I picked up her carrier, this time heading to the check in area (there were more people, but still- not very crowded at all). I walked past a few people checking in, no bark, marked yes, treats, good girl. I stood in what would be a check in line- walked up to the counter and asked the lady if that's where I would check in with a dog- almost on cue, Perla barked the lady, I "sshhh" Perla and hid her a little behind the counter so that Perla couldn't see the lady directly but could hear her talking with me- Perla didn't bark so I put treats in her carrier. I kept the treats coming while speaking with the lady at the counter as she explained the check in process with a dog and I explained to her what I was doing with the training. I slowly kept moving Perla's carrier to be more in sight of the lady as we kept talking, keeping my eyes on the lady but placing treats into the carrier since Perla wasn't barking. I was able to finish the whole conversation with the lady and there wasn't additional barking. I kept the treats coming."
Jennifer did a great job reading Perla's emotional response to a challenging training session. It may not have been perfect, but they were on their way. A week later they went back to the airport.
Jennifer wrote again in her journal. "It went like this. I drove with Perla, arrived at the parking lot, put her in her carrier and walked from the parking lot to the airport. I had my rolling carryon bag with me as well as her carrier. I went directly were the check in area is, Perla was a little restless in the carrier so I went to some chairs across from the check in area, set her on the seat next to me, talked to Perla for a little bit and gave her treats for being there and not barking at the people walking across from us.
Once she was a little more settled, I stood in line as I would for checking in, as I waited (I had about 3 people in front on me) I continued to give treats to Perla inside her carrier. She did not bark at all. When I went to the counter, I talked to the person behind the counter, asked them a few questions, told them about the training, all the while putting treats into Perla's carrier. She did not bark at all when I went up to the counter nor when I started speaking to the person.
From there I walked to the security check area. There were some chairs next to the security area so I did a little bit of mat training next to the security area so that Perla could see people and hear the sounds of the area. She did not bark, she stayed on her mat for the most part, though she did get up a couple of times to look around a little, but would settle back when I asked. I have her treats through the whole process.
After a few minutes, I walked back to the outside area and took her out of her carrier and walked her around a little. She went potty and we stayed for a few minutes. Before going back in, I put Perla back in her carrier. We went back into the airport, took the elevator (no one was around) and I walked back to the car. Someone crossed our path as we were making our way back, but again, Perla stayed settled, no barking. All in all, it was a little less than 30 minutes between the parking, training and leaving."
When the day on their flight arrived Perla and Jennifer were ready. They'd worked hard and learned so much. Traveling can be hard on the best of days. But, Jennifer and Perla had figured out how to navigate it together.  It was their big holiday adventure. But, more importantly, it was a journey of the heart. I think we can all relate to that, too.. Because no matter where we are and no matter where we end up – if we are with our beloved dog – that is home.
Michael Baugh teaches dog training in Houston, TX.