713-934-9922
Michael Baugh CDBC CPDT-KSA CSAT
Dog behavior expert Michael Baugh began his professional work with families and their dogs in 1999. He graduated with honors from the San Francisco SPCA Academy for Dog Trainers and the Karen Pryor Academy for Animal Training and Behavior.  Michael has a degree in communications with a secondary concentration in psychology from Loyola University of New Orleans. He also studied community counseling at the Graduate School of John Carroll University.
Michael is the first full time dog behavior consultant and dog trainer in houston with these two independent professional certifications:
Certified Dog Behavior Consultant (CDBC) – Awarded by the International Association of Animal Behavior Consultants (IAABC). This certification required multiple essays and case studies related to helping people who have dogs with serious behavior problems including aggressive dogs.
Certified Professional Dog Trainer, Knowledge and Skills Assessed (CPDT-KSA) – Awarded by the Certification Council for Professional Dog Trainers. This certification includes a 250-question test assessing 6 core competencies in dog training. Additionally it included peer review of actual training and teaching (on video) to assess skills at well as knowledge.
Certified Separation Anxiety Trainer (CSAT). Accepting Dog Separation Anxiety clients beginning January 2022.
Michael also teaches other dog trainers, offering online learning opportunities as well as in-person seminars and workshops.
---
Beth Brown CCBC CPDT-KSA

Beth Brown CDBC-KSA CCUI CCBC Beth is a Certified Professional Dog Trainer Knowledge and Skills Assessed (CPDT-KSA). She also has additional multi-species certifications, which makes her unique among Houston Dog Trainers. Beth is proficient in specific techniques and modalities based on solid behavior science, earring her the Certified Control Unleashed Instructor designation (CCUI). She's also a Certified Cat Behavior Consultant (CCBC).
Beth has depth of behavior knowledge and a breadth of experience as a professional trainer and as a former behavior coordinator at a local animal shelter. She's also a fantastic teacher of human learners.
---

Erin Richardson CPDT-KA
Erin is a Karen Pryor Academy Certified Training Partner (KPA-CTP) and a Certified Professional Dog Trainer—Knowledge Assessed (CPDT-KA), as well as a professional member of the Association for Professional Dog Trainers (APDT).
She is currently working through Michael Shikashio's Aggression in Dogs Master Course and is working
toward becoming a Certified Dog Behavior Consultant (CDBC).
She is experienced with socializing and training puppies, teaching owners how to problem solve and prevent behavioral issues in the future. She is passionate about helping dogs that struggle with leash aggression and general fear toward people and other dogs.
---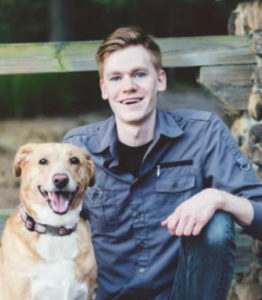 Stephen Kelly
As Client Care Lead, it's Stephen's job to meet pet owners and match them with the best trainer for their animals' needs. He also co-owns Happier at Home Professional Dog Walking alongside his family, where he does the same for their amazing clients and pet sitters. As both a manager and a sitter himself, Stephen has been working alongside dogs, cats, and local trainers since 2004 and is happy to add his experience to the team at Michael's Dogs.