713-934-9922
Michael Baugh CDBC CPDT-KSA
Dog behavior expert Michael Baugh began his professional work with families and their dogs in 1999. He graduated with honors from the San Francisco SPCA Academy for Dog Trainers and the Karen Pryor Academy for Animal Training and Behavior.  Michael has a degree in communications with a secondary concentration in psychology from Loyola University of New Orleans. He also studied community counseling at the Graduate School of John Carroll University.
Michael is the first full time dog behavior consultant and dog trainer in houston with these two independent professional certifications:
Certified Dog Behavior Consultant (CDBC) – Awarded by the International Association of Animal Behavior Consultants (IAABC). This certification required multiple essays and case studies related to helping people who have dogs with serious behavior problems including aggressive dogs.
Certified Professional Dog Trainer, Knowledge and Skills Assessed (CPDT-KSA) – Awarded by the Certification Council for Professional Dog Trainers. This certification includes a 250-question test assessing 6 core competencies in dog training. Additionally it included peer review of actual training and teaching (on video) to assess skills at well as knowledge.
Michael also teaches other dog trainers, offering online learning opportunities as well as in-person seminars and workshops.
---
Beth Brown CCBC CPDT-KSA

Beth is a Certified Professional Dog Trainer- knowledge and skills assessed (CPDT-KSA) and a Certified Cat Behavior Consultant (CCBC) through the International Association of Animal Behavior Consultants.
As Beth likes to say "Cats are every bit as trainable as dogs!" She should know. She's an expert in dog behavior, too.
Beth is the behavior coordinator at Friends for Life. She's also a professional member of the Pet Professional GuildL and an instructor in training for Leslie McDevitt's Control Unleashed program. She fosters neonatal kittens and puppies in her spare time, and enjoys training other species like chickens to hone her skills.
---
Jeannie Seuffert CDBC, CPDT-KA
Jeannie is a Certified Professional Dog Trainer, Knowledge Assessed (CPDT-KA) and a Certified Dog Behavior Consultant (CDBC). She spent many years working and volunteering in shelters as a canine coach observing and assessing behavior. She is also a member of the Association of Pet Dog Trainers and a Canine Good Citizen (CGC) evaluator for the American Kennel Club.
Jeannie's work as a trainer draws on years as an Occupational Therapist working with families and young children with sensory processing and integration deficits. In her observation of dogs, she has noticed how the sensory system in dogs can have a direct effect on behavior. She has a keen eye when observing how dogs move through their environment both physically and through the processing of sensory information. Her passion to teach is palpable. Her outgoing and energetic approach is complimented by a deep compassion and dedication to client families and their dogs.
Jeannie served as a mentor for CATCH Academy as well as for The Animal Behavior College. Her passion for the health and well being of dogs and deep interest in canine behavior has lead her to further her studies with experts in the field of Applied Behavior Analysis, aggression and canine fitness and conditioning. She continues her studies under the tutelage of Ken Ramirez, Dr. Susan Friedman, Sue Sternberg, Michael Shikasio, and Dr. Debra Toraco- Gross, DPT.
---
Erin Richardson CPDT-KA
Erin is a Karen Pryor Academy Certified Training Partner (KPA-CTP) and a Certified Professional Dog Trainer—Knowledge Assessed (CPDT-KA), as well as a professional member of the Association for Professional Dog Trainers (APDT).
She is currently working through Michael Shikashio's Aggression in Dogs Master Course and is working
toward becoming a Certified Dog Behavior Consultant (CDBC).
She is experienced with socializing and training puppies, teaching owners how to problem solve and prevent behavioral issues in the future. She is passionate about helping dogs that struggle with leash aggression and general fear toward people and other dogs.
---
Kelsey Braxton CPDT-KA
Kelsey is a Certified Professional Dog Trainer – Knowledge Assessed (CPDT-KA,) and is a student of the Karen Pryor Academy's Dog Trainer Professional Program working to earn her KPA-CTP certification this summer.
In her free time, Kelsey volunteers with the Friends For Life animal shelter's Behavior Program where she works with fearful, aggressive, and reactive dogs living in a high-stress environment. Kelsey is also learning about feline behavior, training, and enrichment during her time with Friends For Life. She hopes to use the knowledge and experiences she gains there to work towards earning her CDBC and CCBC certifications (Certified Dog Behavior Consultant and Certified Cat Behavior Consultant.)
Kelsey is passionate about teaching owners and dogs to communicate with one another effectively in order to lead a more harmonious life together, and is particularly interested in the roles that early socialization and effective use of body language play in animal behavior.
---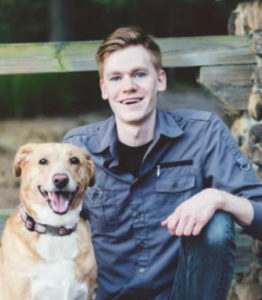 Stephen Kelly
As Client Care Lead, it's Stephen's job to meet pet owners and match them with the best trainer for their animals' needs. He also co-owns Happier at Home Professional Dog Walking alongside his family, where he does the same for their amazing clients and pet sitters. As both a manager and a sitter himself, Stephen has been working alongside dogs, cats, and local trainers since 2004 and is happy to add his experience to the team at Michael's Dogs.