Michael Baugh CDBC CPDT-KSA
I sit on the floor because I'm having a moment. Okay, here's the truth. When I say I'm having a moment I mean I'm having a cry. Stella, my old retriever mix, gets up slowly and walks over to me. I don't know why I'm crying. Maybe it was a sad story on the radio or an email about a client's dog. Maybe neither of us knows why I'm crying but here she is, leaning in, sniffing my face, the tears. And, maybe neither of us knows why she walked over to me, why she is so gentle, why she seems to care. It's just her way. And, here's the other truth. It's why I'm sitting on the floor. This is her gift and she offers it just the same every time and I know that.
This will be the summer that Stella turns 13. She was 5-months when I pointed to her cage at the Houston SPCA and said "That one. I want her." We didn't know she was sick at first , distemper, respiratory then neurological, usually fatal. But, I knew what we were up against when we finally got the diagnosis. The week after we adopted Stella distemper swept through the SPCA and killed half the dogs there. The first time I sat on the floor and cried with Stella was a couple weeks after we brought her home. I was holding her. She was all legs even then, twitching uncontrollably, crying because she was so uncomfortable, crying because she didn't know why. I was crying because I did.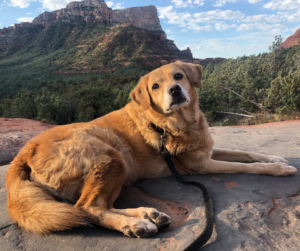 That was the worst night. The ones after were better. Stella did what we all hoped for but didn't dare say aloud. She lived. She lived for months and then years and then a decade and more. She learned to swim and to dive and to climb steep paths to the top of red rocks. Stella grew to be strong and clever and awkward and weird. She is long-legged and small-headed and remarkably beautiful but only at just the right angle. And even now I sometimes look at her and think, that one. .
We brought Stewie home when Stella was barely 18-months. He was small and scrappy, fresh from a run through a tropical storm and a close call with a speeding car. The vet said he was 2 or 3. He had a collar but no tags. Testicles but no microchip. I put up signs and called the shelters but no one claimed him. And, here's the truth. I could understand why. He was a hot mess, shitting and pissing indiscriminately, claws like an iguana and a piercing scream at the sight of nail clippers. He wasn't crate trained or leash trained or anything trained. No wonder no one claimed him except us. My partner, Tim, was at the sink when he rather stoically pointed to Stewie and said (as if issuing an edict) "We can keep him."
Stewie learned potty training and pedicures, but also paths to the top of red rocks. That brush with a fast-moving car faded with quickly passing years (though, he's still afraid of storms). Stewie is about 14 or 15 now, the last 12 with us. It's been 12 years of Stella and Stewie, of I want her and we can keep him. It's been hard for a long time to imagine one without the other, each of them so a part of the other, so a part of us. They were each a gift, dubious and imperfect. Now they are treasured gifts, imperfect still, but perfectly fitted to our lives and to our hearts.
We all want the perfect dog. But, here's the truth. Perfect isn't packaged up for us to get. It's not the right breed, or the right breeder, or the right boot camp we send our dog away to. Perfect is years of giving. Perfect is vet visits and cleaning up messes and nail trims. Perfect is swims and leash walks and hikes up steep red-rock paths. Perfect is awkward and scrappy, her and him, month after month, year after year. Perfect isn't something you buy. Perfect is something you create, the giving and the receiving, the forging of a friendship (maybe a best friendship), with a being who will never speak a word but communicates so beautifully nonetheless. Perfect is earned. Perfect is dried tears at the end of the day, near the end of a life well lived, with a good girl and a good boy, on the floor.
Stella walks up stiff-legged, her face next to mine, and I lean into the thick fur around her neck that doesn't quite match the rest of her body. Such an odd-looking dog. Awkward. Perfect.
Michael Baugh specializes in aggressive dog training in Houston, TX