Michael Baugh CPDT-KA, CDBC
The clinic where Tiffany works and Tad hangs out is much nicer even than it looks in pictures.  There's a pleasant chime that sounds when the front door opens.  I was pleased as I walked in that I didn't hear Tad barking.  Tiffany greeted me in the lobby and asked me how I wanted to meet Tad this time.  "Just let him out," I said, and around the corner he came.  Tad ran up to me like we were old friends.  I couldn't have wished for a better start to my day.
Behavior science is the language we use to communicate with the non-human animals in our lives.  Don't worry; I'm not going to geek out on science again.  During our visit we taught Tad to sit and focus, and how to say "hi" to visitors, and how to lie down and chill out with his Uncle Michael, and how to stand calmly at the baby gate and watch people.  All that is grounded in sound behavior science.  It's also good communication.  If we can change our behavior a bit, and Tad changes his in kind, then we are definitely communicating.   And the cliché is true – good communication builds good relationships.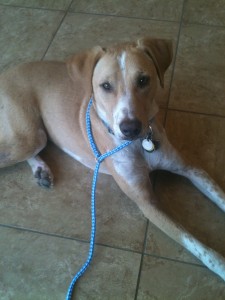 There's little doubt that Tad and Tiffany have forged a powerful bond.  They are learning to communicate at a much different level now, and they are making progress together.  It's cool to watch and I count myself incredibly lucky to not only be witness to it, but deeply involved in the process.  We all know how easy and wonderfully alluring it is to fall in love with Tad online.  It is something altogether different to be with him in person.  For just a few seconds Tad tucked his head into my arms and pressed his forehead against my chest.  I scratched him behind the ears and kissed the top of his head.  No one said a word.  Then we all got back to the work at hand.  The moment had passed, but it was sacred nonetheless.
Tad didn't bark once, or growl or lunge the entire time I was there.  I've actually never seen him behave that way, and that's the way it should be.  Tiffany tells me he's doing those things less, and not at all when the front door chimes.  We're changing his life, and changing his behavior.  We're creating opportunities for him to succeed, and relishing in that success with him.  There's no need to set him up to bark and growl and lunge so we can tell him he's bad.  He was never bad, just afraid.  Of course, all that is changing now.  There's no need to be afraid anymore.  We even have a plan in the works to curb his play biting (most of his bites were attention-seeking).  I hesitate to make any predictions, but Tad is improving.  I'm hopeful he will continue to do so.  Very hopeful.
I don't like goodbyes so I didn't make a fuss over Tad when I left.  I'd stayed longer than expected, and I would have stayed longer still if there had been time.  I headed south toward Houston and remembered Tad pressing his head against me.  It made me smile and remember why it is I do this work.  Before long I'll be back in The Tadlands, at the smartly appointed clinic, stealing a moment with the rag-tag dog no one wanted.  When did I first notice he was stealing my heart?