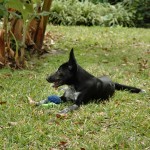 Michael Baugh, CPDT-KA, CDBC
HOUSTON – This time of year especially, dogs in Texas spend a lot of time outdoors. It's part of our culture. It's also true that a lot of our dogs do quite well on their own outdoors in safe secure yards. They lounge about, chew on appropriate items like bones, sun themselves, or play with a sibling our housemate. Some even have doggie doors so that they can freely move from inside to outside at their own discretion.
If you have one of these dogs, my hat is off to you. This article is not about your dog. It is about the problem behaviors many other dogs develop from being left unattended (sometimes for days) in backyards on their own. It's a long list. I'll keep this one short, however.
( Read More on MyFoxHouston.com )