"In every walk with nature one receives far more than he seeks." – John Muir
Michael Baugh CDBC CPDT-KSA
We need this. We need moments to pause, to stand in awe of beauty, to take in a deep breath and whisper "wow" on the exhale. Now, perhaps more than ever, we need to get out, let go, and decompress.
I'd heard about the simple but profound power of walking with a dog in nature. Dr. Lore Haug routinely prescribes what she calls Long-Line-Walks in green spaces away from other dogs and people. Sarah Stremming coined the term "Decompression Walk" in her podcast, Cog-Dog Radio. It's a walk on a long leash or off-leash in nature, allowing the dog to move freely, pause, sniff, be. I knew the concept. I even embraced it and recommended it. But, I hadn't experienced it. Not really. Not until now.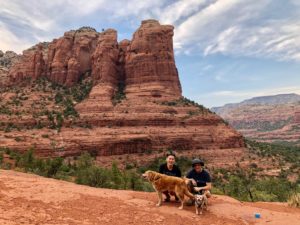 My husband, Tim, and I both work from home these days. And, it turns out home can be wherever we want it to be, so long as there's a strong internet connection. So, we packed up Stella and Stewie and drove to Sedona, Arizona for the month. It turns out the internet connection isn't so strong here after all. And, I won't bedazzle you with stories of the mythic vortices, or the new age vibe. In fact, the rhythm and roll of the town is decidedly human, with all of our decidedly human aspirations and faults. So be it.
But none of that detracts from the place itself, nestled in the Arizona Desert but higher up where the air can cool at night, with sweeping views of bold red and green against blinding blue sky, and mile after mile of  trails – packed mud and sand and red stone trails.
I don't know of any studies. The data is all anecdotal, stories from trainers and dog enthusiasts. Walks in the green spaces just out of town, or on the beaches further off, or on the red rocks and dust outside our door here, are life-changing for our dogs. Aggressive dogs learn to self-regulate more easily. Fearful dogs gain confidence. The unruly and misfitted find their way. The slow and the aged reclaim some youth. Is it the exercise? Certainly. Is it that freedom to move willfully without our constant tug and correction? Yes, absolutely. Is it the chance to pause and sniff – to sniff for as long as needed and longer – to sniff at every chance, every rock, every shrub, every delightful blade of tall brown grass? Yes, yes, a thousand times yes. I pulled a cactus needle from the tip of Stellas nose and I still have no doubt the sharp point of it was well worth the delicious scent. The power of these walks, I am convinced, is from all of this and so much more we still don't fully understand.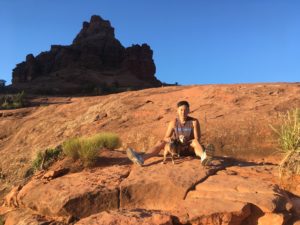 Stewie is 13, maybe 14. He's lean and muscular, a Chihuahua Cocker Spaniel design according to the DNA. He loves his walks. But his strut seems even more pronounced with the desert under his paws, scaling rocks two and three times his height, climbing mountain trails to overlooks 30-stories up.
Stella is 11. She has hip dysplasia and arthritis. We keep her on the flat and easy trails and steady her up the rocks and gentle inclines along the way. We stop when she stops. And, we take in the moment with her – the stunning views, the fresh and new scents, the feel of the warm dry air all around us.
In the evening we watch the sun set the day aside and blow in the cooler air. We all eat our fill and rest our bodies on soft furniture (or cool tile floor).  I wonder, almost every evening now, how such a simple thing can be so profound, how pausing can be so powerful, how the natural world – so essential to our being, to every living being's existence – has slipped away. We built over it, built around it, built up our lives to forget it.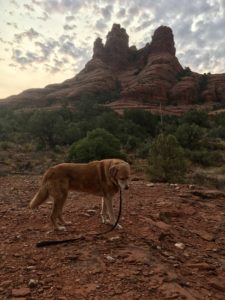 And these are the very things we need to remember, the things we need the most. A moment to decompress. A deep inhale and a quiet exhale, standing high on a rocky path still warm from the midday sun. Life, our own and others, all around us – and our dog a few feet away. She is staring at the dirt, or maybe it's a bug, or a lizard flitting under a rock, or a scent still fresh from who knows what. She's seen more than 4-thousand days, but none as important as this. She's traveled a thousand miles, but not a step has been more important than the last that brought her to this place. She is, in this moment, fully dog, unfettered, un-fussed-with, allowed to be and become more of who she is.
I quietly take out my phone and snap the photo. And, I think to myself. "Wow."
Michael Baugh CDBC CPDT-KSA teaches dog training in Houston TX and Sedona AZ. He specializes in aggressive dog behavior.