Michael Baugh CDBC CPDT-KSA CSAT
It wasn't that long ago that folks thought of online dog training (live video coaching) as a second choice. We considered it a good-enough option when in-person training wasn't available. There are some reasons for that. Dog trainers weren't as good at remote training as we are today. Fair enough. The other reason, though, is that we just didn't know what we didn't know. The pandemic, quite frankly, forced us to immerse ourselves in online learning experiences. Little-by-little it became a welcome part of our comfort zones. We got good at it and we learned how good it could be for us.
Dog training and behavior coaching has some key elements in every case:
Setting goals
Charting a training plan
The trainer modeling specific skills and exercises
The client practicing those skills hands-on and getting feedback
Review and Follow up
The truth is, not only are all of those things able to be accomplished live on a video connection, some of them are actually better accomplished that way. I take notes for my clients and can often send clients a written training plan the very same day if we are working online. I also record demonstrations and practice sessions and can send a link for those to the client within minutes after our consultation.
And, believe it or not, there are real disadvantages to seeing a client and their dog in-person. For dogs with aggression issues, having a stranger in the home can be very stressful. Half of a training session or more can be wasted just getting the dog to calm down. We don't have that problem with live video coaching. The client can work with their dog in a calm stress-free environment, skill-building and preparing the dog for real-life encounters later in the process. Dog separation anxiety training is done entirely online. The idea is to help the dog learn how to be calm when left alone. You don't invite someone over and then leave the dog alone, right? It's essential that the trainer not be there so that he can monitor your dog's behavior when left on his own.
It's normal to have some hesitation around online training. I get it. Many of our clients did at first too. Then the reviews started coming in:
Michael is Very professional and helpful. We were worried about the training being performed virtually at first but found that the training was just as helpful as in person training if not better. – Mary C
I was worried how training might translate over Zoom since we began at the height of COVID, but everything went so smoothly and I think the distance helped Finn to be a bit more natural at home during training sessions. – Corrine B
Even through remote training due to covid, Michael's professional assessment and training skills shone through and worked wonders. He gave us a customized plan to help her build trust and positive engagement with my husband. – Mabry Family
We met with Michael through Zoom meetings and he helped us immensely with positive training techniques that helped our pup become a loving part of our family. – Pat V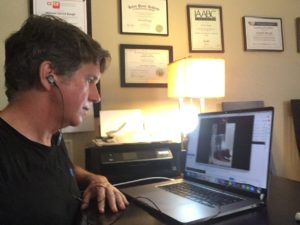 We've learned there are other real advantages to live video dog training sessions online, as well.
Expert help when you need it. There are still too few dog behaviorists and dog behavior consultants who handle difficult behavior cases. With online coaching you can access experts more easily with less wait time for an appointment.
Convenience of scheduling. With no worries about service area or travel time, we can make more evening and weekend time slots available.
Expert care and instruction no matter where you are. Online dog behavior coaching is not bound by geography or service area boundaries.
Safety. Online coaching is stress-free for dogs with aggression issues.
Less stressful for the humans, too. There's no fuss or worry about having a stranger in your home.
Online training costs less.
I'm a watcher of trends. It's one of my passions. One of the things we are noticing from the pandemic is that we will probably continue to do more work with each other remotely from our own homes. Certainly we crave social interaction in-person. At the same time we are realizing we don't need that (or want it) for all interactions. If we can get expert help that's better, quicker, and less expensive, that really should be our first option. Experience has shown me so far it's likely to be our best option, too.
Michael Baugh teaches dog training in Houston, TX. He's also able to help people around the world with live video coaching online.