Michael Baugh CDBC CPDT-KSA
I've actually be doing remote dog training consultations with clients for long time, mostly for dogs who are too fearful or aggressive to tolerate anyone being in their home – and sometimes for people who are outside our in-person service area. Teaching and training at a distance is nothing new for me. You could say I've been preparing for this age of social distancing for years.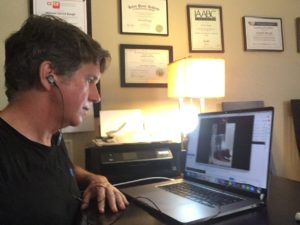 Setting goals together. The first thing I do in any consultation is listen. More than anything I want to know what is important to you. What matters most for you and your life with your dog. Tell me what's going on. Before our consultation you'll have completed a questionnaire to give me some background. During the conversation online (or in person) we can fill in some gaps. I want to know what's troubling you and your dog.
That leads us to setting concrete goals for our work together. Once we have goals jotted down we can lay out a training plan for our dog. How are we going to fix the stuff we don't like? How are we going to teach you dog to be the best version of himself?
Dog Behavior change is rooted in training. If we want our dogs to stop doing bad stuff (dangerous stuff), we have to teach him what we want him to do instead. That's how we change our dog's behavior. We know what we want him to stop doing. Let's set some new boundaries and safety measures for our life with out dog, of course.  But now what do we want him to actually do? We can make a list of things you've already taught him. And, let's map out the skills he still needs to learn. That's the heart and soul of our behavior change plan.
The mechanics and timing of dog training. The foundation of dog training is actually human learning. Whether we are in the same room or connected by a live video link, trainers are teaching their clients how to communicate with dogs. Dog training is about learning mechanical skills and good timing – what behavior are we asking the dog to do? How are we letting him know when he gets it right so he does it again? How do we time all that so it is a clear and understandable message for the dog?  We trainers teach a series of simple but crucial human skills:
How to position our bodies
Where to place or rest our hands
When to click
When to reach for the treat bag (and when not to)
How to deliver the food reinforcement
And how to cue. Yes, we teach the cue last in many cases.
The best way to teach these human skills is by demonstrating. Then we observe while our human client tries these new moves out for themselves. We can do this with clients in person, yes. And, it's just as effective when taught using a visual link in real time with a laptop or tablet.
Watch this. Many of us are visual learners. A dog behaviorist or trainer on remote consultation will often demonstrate a skill live on the video link using his or her own dog. That can be fun. But one of the coolest parts of doing a video remote is the ability to share our screen so we can show you detailed pre-recorded video instructions in real time. Often the best way to make a lesson clear and relatable is to show how it is taught – but also how it will look when it's done. That, in my opinion, is one of the real advantages of remote video learning. You have all the resources on my laptop right there at your fingertips.
Follow up.  Once we are done working together you'll want to have resources you can reference days, even weeks later. No problem. We'll record our consultation for  you and then share it for you to review at your convenience. And, we'll send out the notes we took during our session in a comprehensive report:
Your goals
The plan agreed on together
And all the exercises we covered
Plus links to relevant videos and other resources
We'll also stay connected every day using our exclusive online training journal.
Remote dog training and behavior consultations are full-service. They are, I daresay, as good if not better in some cases than in-person work. They are:
Convenient to schedule (we often do remote consults at times we would to be able to see clients in person).
Not limited by geography. It doesn't matter where you live in the world.
Safe and distraction free.
Less expensive.
All that said, please don't misunderstand me. I do like meeting people and their dogs in person. Of course I do. But more than anything, I like helping people and their dogs. I'm genuinely happy there is technology and know-how available so that you can get tha help no matter how far we are from each other.
Michael Baugh teaches dog training in Houston, TX. But, through remote consultations he is able to help people and their dogs around the world.