Michael Baugh CDBC CPDT-KSA
"What you want is a stuffed dog."
 It's cynical dog trainer humor. When friends, relatives, and even some clients list the qualities they want in their dog we fire off that zinger. They want a dog who doesn't pee in the house, doesn't bark, doesn't jump on people, doesn't pull on leash, and doesn't chase the children. Stuffed dog. They want a dog who doesn't "have a mind of his own," isn't dominant, and won't cause any trouble. Stuffed dog. They want him to be, but they seemingly want him to do nothing. Stuffed dog.
I think we sometimes forget why we love dogs so much, and it's a bit ironic. While we're tripping over all the things we want dogs to not do, we forget what it is about them that we like so much. Behavior. Their actions. What dogs do. The way they run, the looks they give, the tricks they learn, that's what makes us smile, pulls us in, and draws us out of ourselves.
So much better than a stuffed dog, real dogs move and breathe and make noise. They use their eyes and faces and bodies, so that we look and move and talk in turn. We call it communication. Joy. Love. Dogs come toward us, walk the path with us, pick up and bring things to us, play with us, tug at a toy and our hearts. It is in their doing that we discover their being. Animated. Warm. Living. Just like us but also not at all.
And yes, they pee and bark and jump and tug at their leashes. They chase things and sometimes cause trouble. They have minds of their own. Yes. It's that mind, and ours, interacting, working together. Our actions, kind and informative, replying to theirs. We help our dogs choose differently, discover new behavior. And their behavior helps us act differently, think more clearly. We call that communication too. Teaching. Learning. What each is doing informs what the other does. Feedback. Who's training whom, and who cares?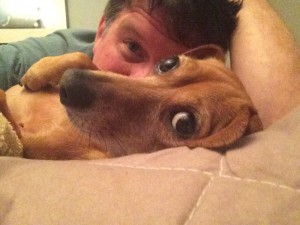 And at the end of the day who your dog is is all his doing. He burrows under the blanket. He curls and presses his back to your chest. He slows his breaths and snores. He twitches and barks a muffled sound against some dream we cannot see. He is an amazing being, so different from us but so connected to us.
So alive. So warm and real. So much better than a stuffed dog. And, exactly what you want.