Michael Baugh CDBC CPDT-KSA
Training our dog can sometimes feel overwhelming. Where do we start? What's next? When can I stop worrying? (Aggressive dog behavior is, after all, potentially dangerous). How will I be able to relax and have fun with my dog again? The questions and the thoughts can get all mixed up in our heads. It can feel like too much.
And then there's the comparing of our dogs against the other dogs we know. My dog's not as good as theirs. Or that person's dog behaves so much better. Or he just did this or that and his dog was fine. There's so much self doubt and judging.
A dog business colleague posted some raw and vulnerable truth online today. It was a mix of I love my job and my job is hard and I put everything into my work and sometimes I suffer and sometimes it's really really hard and I am strong. She posted a photo of herself. It was simple. Beautiful. Black and white. Somehow, all of those thoughts and feelings ended up right there in the picture. So too, did the elephant in the room. The world feels upside down right now. Life is crazy and sometimes scary (Covid is, after all, potentially dangerous). I read her post and looked at the photo and thought, "Yeah, I feel ya. I feel all of that."
It's been in my head for a while that dog training is sort of a metaphor for life in general. Our relationships with our dogs are like microcosms – simpler, easier, test runs for our relationship with one another and the world at large. That is the gift of Dogs. Are our relationships with them sometimes messy, difficult, and exhausting? Yes. All that. Is it also messy, difficult, and exhausting living with each other in the world right now? Be honest. It is. Right?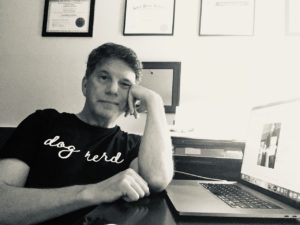 When my clients get overwhelmed (I cherish you all, by the way), my advice is almost always to take a short break. Then, focus on the small goals we've set. Where do we start? Here, with the dog in front of us. What's next? The attainable tasks at hand. We set ourselves up to succeed so we can get that first sweet taste of success. And, then we keep going. When can I stop worrying? Anytime. Right now. We are doing the work. How will I be able to relax and have fun? Ah, now there's the question. For me it's about sitting and noticing –  noticing my dogs, noticing you, noticing the here and the now. So often we get caught up in our heads. We take in a small bit of information and we build an entire epic around it. We project ourselves into a future we don't yet know. Or we cast ourselves back to rewrite the past. Forward and back, we end up running circles. "Relaxing" and "fun" spin off to the sides because our thoughts are moving too fast. And, I feel ya. I feel all of that.
I'm still talking about dog training here but really I'm talking about everything else, too. We're under pressure. There's the virus and the uncertainty and the friends and family whose fuses seem so much shorter now. And there's the isolation – figurative and literal. And there's the comparing. Are they handling all this better than I am? Do they have answers I don't? Self doubt. Judging.
Stay in the metaphor if you like. Or, we can still call this "dog training advice." Either way.
Set yourself up to succeed today with clear, easy, and measurable goals.
Small wins add up.
Take stock in the progress you've already made.
Look for the joy in the process.
Connect (with your dog – but also other people)
Avoid nonsense advice (especially online)
Be here right now.
Observe without judging.
Reinforce generously.
We are not alone. Clichés are so annoying because they are true. My clients know this: When they suffer and struggle with their dogs, they are in good company. Many others are on the path with them. And, the path is well worn with foot prints and paw prints from those who have gone before. And, here is where this microcosm of life with dogs shines a clear light on the bigger picture. We really are in this together. At some level on any given day we are all dealing with our own private shit storms – with our dogs, with family, with friends, with an invisible virus, and with a political landscape we can't stop looking at. This isn't a misery-loves-company essay. And, at the same time, even that cliché carries a bit of truth. If we can feel the angst, or suffering, or pain, or whatever you want to call it – then we can relate to it in others. This is how we access compassion. This is how we connect (even when we are physically distant) to others. This is how we care for others and for ourselves at the same time, by remembering we are not alone. These very personal feelings we are feeling are actually universal.
This is what I was reminded of today, looking at a stark monochrome photo of a woman under the heavy weight of her own thoughts and feelings. It's not just you. It's not just me. We're feeling it together. That crushing weakness. That badass strength. All of it at the same time, right here in this moment. Pull compassion from these feelings. Set goals, add them up, and take stock. There's joy in the process. Be kind and generous with yourself  because Reinforcement Drives Behavior.
Michael Baugh is a dog trainer in Houston TX. He specializes in aggressive dog behavior.