Michael Baugh CDBC CPDT-KSA
I knew Victoria Thibodeaux was a talented dog trainer even before I officially met her. She and her dog, Zelda, had set up camp near the back wall of our Karen Pryor Academy Class at The Fundamental Dog in Montgomery, TX. I had my eye on the open space in the back corner for myself and Stella. They looked like good enough neighbors.
You can learn a lot about a trainer by watching how they interact with their own dog. They word I thought of then (and again now) is "intuitive." Victoria and Zelda worked their way through the class with an intuitive sense of connectedness – not too flashy – just simple and graceful in equal measure. It was amazing to see weekend after weekend when we met for class. "Who is teaching whom?" I thought. The synergy – unpretentious and elegant. And, on top of it all, they were great neighbors. We became friends. "That one," I remember thinking to myself, "We're going to work together someday."
And now, five years later, that someday is here. Victoria started full time March 1st with Michael's Dogs, now Michael's Dogs Behavior Group. I asked Victoria to do this blog with me interview style, like a Rolling Stone piece minus the celebrity nonsense.
MB: I'm always curious about how trainers raise their own dogs. Zelda is amazing. Your puppy, Freddie, is 5 months old now. He seems delightful, too. But it can't all be perfect puppy all the time. Right?
VT:  You are right about that. Like any puppy, if I don't give him something to do, he will take it upon himself to find something to do. Right now, the "naughty" behaviors we are working on are jumping up on counters and parading my shoes and socks around.
So, I stay ahead of the game. I give him plenty of things to do when he is not confined so he doesn't look for things to do on the countertops. I hide my shoes and socks. But, when I forget to hide them, I ask him to trade them for a treat, which he happily does.
I am training Freddie to be a multi-purpose working dog. We have plans to compete in the show ring, sport dog world, and even some service dog tasks.
MB: Good trainers like you have a lot of education. What part of that education (or even your one life experience training dogs) do you depend on most when working with your clients. What little golden nuggets of advice seem to come up again and again?
VT: Two things come to mind. First, always be kind. I've known many well-intentioned trainers who shame clients for using tools or training methods they do not agree with.  People do the best they can with whatever tools and information they have. Our job is not to make them feel bad about any of that, but to provide the best path forward with kindness and compassion. The second is to help people to understand the same is true for their dogs. Our dogs are always doing the best they can with whatever tools and information they have. If we want them to behave differently, we must give them different tools and information. Always with kindness and compassion.
MB: You just finished Dr. Susan Friedman's Living and Learning with Animals Course. It's all about Applied Behavior Analysis. That's heavy stuff. What was your big take-away from that course?
VT: Yes, it was such a fun and informative course! Applied Behavior Analysis is all about breaking behaviors down to their core and understanding what causes the behavior to happen in the first place, as well as what makes the behavior more likely to continue or discontinue. I feel like I have a clearer way of looking at and evaluating all behavior, but especially aggressive dog behavior.
MB: People often joke that we are training them more than their dog. What do you think? Who is learning more in your training sessions, the human or the dog? 
VT:  Most of the time I would agree, the people are usually the ones learning more. They have to develop new communication skills with their dogs, carve out time in their already busy days to practice these new skills, and sometimes make lifestyle changes, all of which can feel daunting.
Though the dogs are learning a lot as well.
MB: This work can be emotionally draining sometimes. What's a bad day at work look like for you, and what's your advice to other trainers for getting through the tough days?
VT: You are right. Not all days are good days. Sometimes the training plans don't play out as intended. Sometimes the dog or human clients are having a bad day and everyone needs a break. I have been peed, vomited, and pooped on all in the same day. This job is not all rainbows.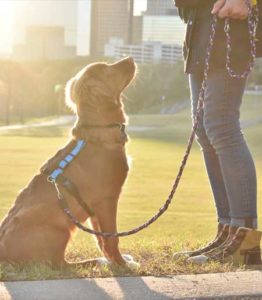 During those tough days, I regularly stop to breathe. Occasionally I even ask my clients to do this with me. Taking a few seconds to stop and practice deep breathing really helps us come back to the task at hand with a calmer brain.
MB: We talk to our clients a lot about positive reinforcement. When you think about what's most reinforcing for your as a trainer, what comes to mind? What really gets you up and going in the morning?
VT: More than anything, I enjoy being an advocate for the dogs and behavior science. Of course, seeing my clients make progress towards their goals is very reinforcing for me. Deeper than that, I strive to help modernize our cultural understanding of dogs. I really am a "behavior geek," and a "dog nerd," if you will. Though I find behavior science absolutely fascinating, my mission is always to find ways to make it easy for the average person to understand and apply those principles. This is how I believe we will see a cultural shift take place. And I am strongly motivated to be a part of that cultural shift.
Michael Baugh and Victoria Thibodeaux teach dog training in Houston, TX.